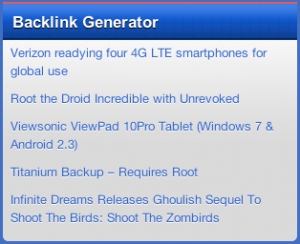 There is a new WordPress Plugin that was developed by Mofiki.com that promises to add thousands of backlinks to your website. It doesn't add all of your backlinks to your domain but every page throughout your site where the widget can be found.
When you install and activate the WordPress Plugin you will then need to go to your Widgets and add it somewhere visible on the page. Thats all you will then start to get backlinks from others using the plugin.
We haven't started using the plugin yet but it looks to be useful as long as the developers continually verify that the code exists on websites that are getting the free backlinks (from the sounds of it it does). From looking through the plugin it looks difficult to cheat currently which means that you should get some great backlinks from it.
If your interested in the Widget just follow the link below (which we will update when the widget is released in the WordPress directory).
http://www.mofiki.com/2012/wordpress-plugin-to-generate-1000s-of-free-backlinks/