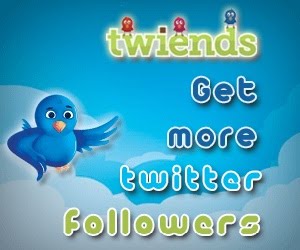 So you are looking to get a jump start on Twitter followers? How about getting them with no games, gimmicks and best of all free! You can get all of this at Twiends.com. But before you visit their site, wait until the end of this post for a few extra ways to get additional seeds.
The whole process goes as follows:
Register
Follow others and earn "seeds" (You can get 1 follower for as low as 2 seeds starting out. More seeds = More followers.)
Automatically start getting followers..that's it!
Note: Twiends is not limited to followers on Twitter, but for Facebook and Youtube as well.
Now as you get started you may want to change settings to get more followers that are less likely to drop you as well as those that have been members for a longer period. Go to settings > Twitter >edit to make these changes.
On to the goodies!
Receive free seeds by following these easy steps:
First sign in with your Twitter account for 15 seeds
Fill out your profile in settings >general for 40 seeds
Subscribe to the newsletter for 50 seeds
Refer a friend for 25 seeds each person
You can also try the entering  the following voucher codes by going to Seeds > Free
OK1SA5T -50 seeds
G341UP -50 seeds
If you're not up to all of the work, you can also pay for additional seeds.
Happy Tweeting!