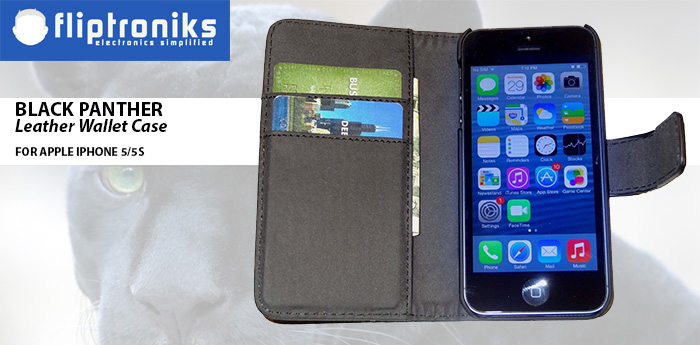 Wallet phone cases are nothing new to the market as I'm sure you've seen many or even own one. But there usually is a lack of quality for the price. Fliptroniks is looking to change that by focusing on better workmanship and competitive pricing. They currently offer the Leather Wallet Flip Case and the Black Panther Leather Wallet Case for iPhone 5 & 5s as well as other devices.
Fliptroniks Black Panther Wallet Case Design & Quality
The Fliptroniks Black Panther wallet case is made of high quality genuine leather with superb hand stitching. To keep the iPhone case from opening unintentionally, there is a magnetic flap to ensure it remains closed.  On the inner sides of the wallet case, you'll find microfiber material stitched to the leather creating pockets for IDs, credit cards, debit cards, business cards, and cash. And don't worry, your iPhone will remain snapped into the built-in holder until you are ready to pop it out. The overall design of this iPhone 5 case from Fliptroniks still allows all buttons, ports, and speakers to be accessed with it closed yet provides a stylish "all in one" carrying solution.
Fliptroniks Back Panther Leather Wallet Case Protection
The iPhone 5s Black Panther wallet case provides protection all around for your device. The sides, front, and back are completely covered and the phone stays locked into place so no worries about accidental drops. The outer leather protects from harmful drops while the microfiber interior protects the screen.
Conclusion
I look forward to other accessories that Fliptroniks puts out because this Black Panther Wallet Case comes in handy. Now I don't have to carry my phone in whatever case along with my wallet, I can just put my phone and necessary IDs, credit cards, and cash in this case and be on my way. This is the best way to go to the gym, pool, beach, etc.
Retails for $39.99