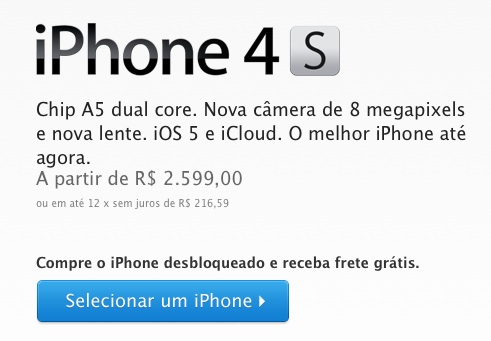 Today Apple has made the iPhone 4S available in 21 more countries but some at an outrageous price.
The iPhone 4S can now be purchased through Apple's online store or through carriers in Bahrain, Brazil, Chile, Egypt, Israel, Jordan, Kuwait, Malaysia, Morocco, Peru, the Philippines, Qatar, Russia, Saudi Arabia, South Africa, Taiwan, Thailand, Tunisia, Turkey, United Arab Emirates, and Vietnam.
In Brazil buyers will have to cough up more cash than anyone else because of the hug import tax placed on devices such as smartphones.
Pricing for the iPhone 4S through Apple's Brazilian online store starts at the equivalent of $1410 for the 16 GB model and moves up to $1628 for the 32 GB model and $1845 for the 64 GB model.
Prices aren't much better in Russia where prices will range from the equivalent of $1131 to $1350.
Compare these prices to the United States where customers pay $649 for 16GB, $749 for 32GB, and $849 for 64GB.