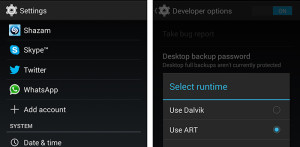 We all know that Android 4.4 KitKat launched on October 31, but a new feature Called "ART" seemed to evade the reports. ART will change how all Android phones operate. It stands for "Android RunTime" and runs the apps on Android devices. Dalvik is what currently does this and has since Android first appeared but is now being replaced by ART.
ART isn't yet the default setting in Android 4.4 but you can easily enable it. In doing so you get more speed with apps launching twice as fast and better battery life up to 30%.
There are a couple of drawbacks though. Android RunTime doees use more storage at around 10% to 20% and some apps are still incompatible. A full list of compatible apps can be found here: http://www.androidruntime.com/list. Keep in mind it is possible to switch back to Dalvik if necessary.
How To Enable Android RunTime
Go to settings and then click "About Phone"
Enable developer mode by tapping "Build Number" repeatedly until it says you're a developer
Go back to settings where you should see "Developer Options" and tap it
Now change "Select Runtime" to "Use ART"
Now your phone will reboot and take about 10 to 20 minutes to convert your app installations to be ART compatible. Don't worry, your app data is safe and will not be lost when converting to ART or back to Dalvik.