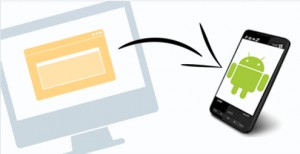 Most Android phones allow you to install 3rd party apps not on the Android Market. However, some phones and/or carriers (like those on AT&T) do not allow this. Fortunately you have a couple of options one of which includes rooting. Now if you aren't up for rooting your phone or are not comfortable doing so, you can use Android Injector from your pc to install the APK onto your device.
To check if your phone allows non-Market apps, go to Settings > Applications and see if there is a checkbox option called "Unknown Sources". If it is there then you have no problems installing any APK. If it is not there then you either have to root or use Android Injector.
First you'll need to download Android Injector and  install it on your PC, along with the drivers for your specific phone (you can find these at your manufacturer's web site). You'll also want to download the .apk file of the app you want to install. Now plug in your phone via USB and wait for Windows to recognize it, open Android Injector, and choose "Select Files". Select the .apk file you want to install, hit "Install to Device", and you should see the app pop up on your phone in a few seconds. It couldn't be any easier.
Android Injector is a free download for Windows systems and not available on the Mac yet.
Download File: