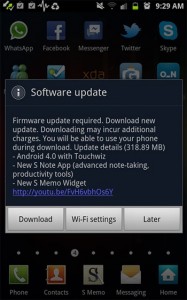 You would think that new devices shipped out would come with the newest Android Ice Cream Sandwich already installed. This is not the case with the Samsung Galaxy Note phone.
But the good news is, users should start seeing the update being pushed to their phone soon. Samsung usually does OS based updates on a per region basis so some will get it sooner than others. It is also reported that Ice Cream Sandwich update for the Galaxy Note is available to download in Germany through the Samsung Kies software.
It could take a few weeks to cover all users with this OTA update of ICS, but well worth the wait. With this 4.0.3 update, Galaxy Note uses will be able to user Samsung's Premium Suite of apps as seen below.