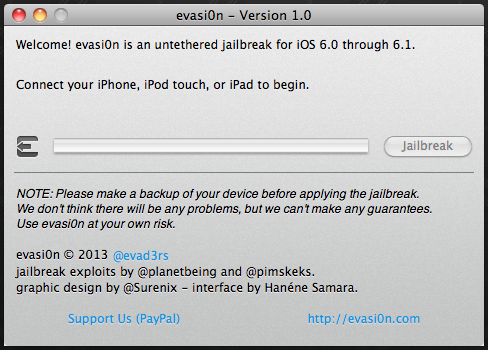 The Evad3r team has been working diligently for an untethered jailbreak for iOS devices running iOS 6.0 through 6.1. While they've had a few exploits in the works, they wanted to wait for Apple to release 6.1 to see if any of them were patched and to also give a longer life jailbreak.
Well today is launch day for the Evasi0n untethered jailbreak tool. Just as you would expect, it is available for Windows, Mac, and Linux and is a simple one click process.
This process is compatible with all iPhone, iPod touch, iPad and iPad mini models running iOS 6.0 through 6.1
Keep in mind that before attempting to jailbreak your iOS device, it is important to backup just in case things go bad.
Steps to jailbreak your iOS 6 device with Evasi0n:
Connect your iPhone, iPod, or iPad via USB
Backup your device in iTunes (right click device on left pane and hit backup) or open iCloud and hit backup now
Open Evasi0n from the directory you extracted to
Wait for it to recognize your device
Click Jailbreak
The jailbreak process will start and will reboot your device
Your device is now jailbroken and Cydia will be on the homescreen
The Evad3r team also states the following:
Backup your device using iTunes (or iCloud) before using evasi0n. If something breaks, you'll always be able to recover your data.
Please disable the lock passcode of your iOS device before using evasi0n. It can cause issues.
Avoid all iOS and iTunes related tasks until evasi0n is complete. Why not just enjoy a brief break from the computer to stretch your legs?
If the process gets stuck somewhere, it's safe to restart the program, reboot the device (if necessary by holding down Power and Home until it shuts down), and rerun the process.