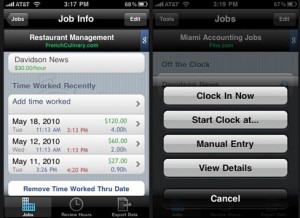 iPhone App to track your hours
Finally, there is a decent iPhone application for freelancers, contractors, and anyone who needs to keep up with the amount of hours they've worked on a particular project or multiple projects. HoursTracker Lite is the free version of the app which is supported by ads, but with few limitations.
How HoursTracker Works
You can set up multiple projects with different wages per hour if necessary. Once you have your project or projects set up, all you have to do is open the app, tap the project you are about to start working on and tap "Clock In". You can even close the app or turn off your phone so you don't have to keep the app running in the foreground for it to work. Once you are done working on the project for the day or time period, all you have to do is open the app, tap the project, and tap "Clock Out". Easy enough, right? This application also allows you to manually enter in the time you start and the time you finish if you so happen to forget to clock in. Need to see how many hours you have worked or how much money you have earned per project or for all projects? You can easily view these based on day, week, or month if you need to with the reports function.
HoursTracker Allows Exporting of Timesheets
To top off everything, the app even allows you to export your work by email either in the body of the email or as an attached .csv file. The only thing is that it exports all of your projects into the email which kind of makes it hard to send as an invoice or employer unless you only have one project in the app. You can purchase the function to export by projects and dates within the app or purchase the full version application for $2.99 which would make it easy to use this to send individual invoices as well.
Personally, I find this free application very useful for everyday freelance work
Download from iTunes:
Lite Version
Full Version