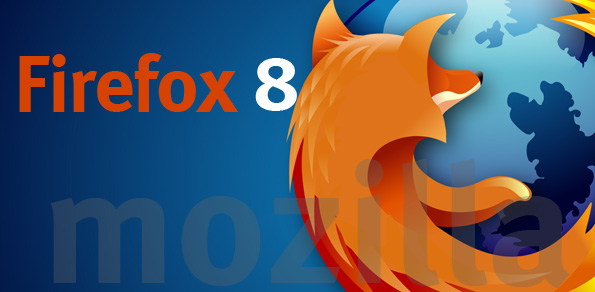 The official release date for Firefox 8 is November 8, but the final versions are available for Window, Mac, and Linux already (download links below).The past few releases of Firefox which are versions 4-7 and all released this year, only had a few added features. Firefox 8 has added a couple features worthwhile including add-ons security and tabs restoring.
Firefox 8 Tab Restore:
If you are a power user like myself who always has 20 to 30 tabs open at any given time, opening Firefox and waiting for all of those tabs to load before you can really do much is a pain. Now, Mozilla has added a feature which is disabled by default but easily changed in Settings called "Don't load tabs until selected". With this turned on, you can open Firefox 8 faster without the wait of tabs loading until you say so.

Firefox 8 Add-ons Security:
Firefox's add-on security has been pretty slack in allowing third party apps to install add-ons without you giving permission. Most of these are bundled with other software like Skype along with others. Mozilla has beefed the add-on security by prompting you to allow for each one. Furthermore, when you first install Firefox 8, you will be asked to allow any third party add-ons previously added with or without your consent.
Firefox 8 Speed:
It seems Firefox is working on becoming faster to catch up with Chrome. These two changes will surely have an impact of quickness perceived by users. Third party add-ons tend to slow Firefox down and now that control is in the hands of the average user to cut back on the ones not needed. Also, initially loading without all of your tabs opened at Firefox 8 startup will show increased speed to users.
Firefox 8 Download Links:
[UPDATE: Link removed at the request of Mozilla because linking 'hurts our FTP servers and affects our ability to release the final version of Firefox on time.']