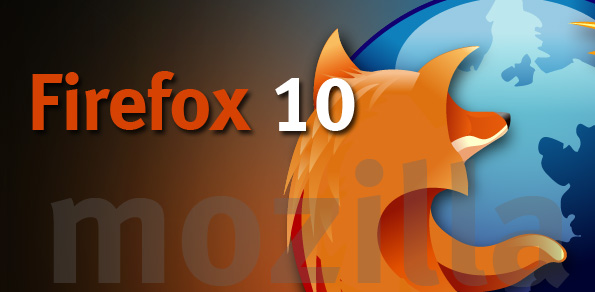 Back in December, Mozilla released version 9 of their Firefox browser. It was speedy with a 20-30% increase in javascript performance. It also adopted the two-finger swipe gesture for OS X users much like the native Safari browser.
Two months later, they have now released Firefox 10. This version doesn't vary much from Firefox 9 and includes the following:
Bug fixes
Better extension management
auto-hiding forward button
CSS3 capability improvements
Antialiasing support for WebGl
Release Notes:
The forward button is now hidden until you navigate back

Anti-Aliasing for WebGL is now implemented (see bug 615976)

Full Screen APIs allow you to build a web application that runs full screen (see the feature page)

CSS3 3D-Transforms are now supported (see bug 505115)

New bdi element for bi-directional text isolation, along with supporting CSS properties (see bugs 613149 and 662288)

Inspect tool with content highlighting, includes new CSS Style Inspector

We've added IndexedDB APIs to more closely match the specification

Some users may experience a crash when moving bookmarks (681795)

Some synaptic touch pads are unable to vertical scroll

For some users, scrolling in the main GMail window will be slower than usual

If you try to start Firefox using a locked profile, it will crash

This version of Firefox will not work on Macintosh hardware with Power PC CPUs

Under certain conditions, scrolling and text input may be jerky

Firefox notifications may not work properly with Growl 1.3 or later
Overall, Firefox 10 is pretty boring and almost a pointless release. But if you still feel the need to stay up to date, the download links are below.
Download Firefox 10