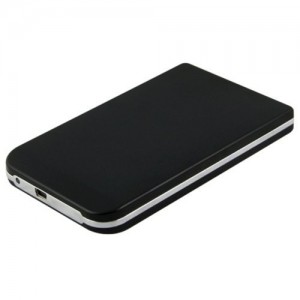 There are always reasons to have an easily portable external hard drive that you can take from computer to computer. There are also many external HD options available for purchase online or your nearest electronics store. Some of these can get a bit pricey though. But what if you already have an extra hard drive lying around whether just extra or sitting within a broken laptop or computer?
If you have a working SATA or IDE drive from an old or unused laptop or pc, you can easily buy a cheap external hard drive enclosure to mount the drive into and use as an external hard drive.
Remove Old Hard Drive
*Laptop – usually the hard drive is accessible from the bottom and has a cover with a few screws. Remove those screws and the plastic cover. Now that you see the drive, it may have a few screws holding it into place. Remove these and then slide the drive to disconnect from the laptop connector. (You may need to look at documentation directly related to your laptop for more in depth process)
*PC – Remove the screws holding the PC cover on and slide the cover off. Now, remove the screws holding the hard drive into place. Be sure to disconnect the data cable and the power cable from the drive and slide it out. (Again, you may need to refer to specific documentation depending on model)
Install Old Hard Drive Into Enclosure
Here are a few things to remember when looking for an enclosure:
-Is it for a 2.5″ or 3.5″ drive? (Laptops have 2.5″, PCs have 3.5″)
-Is the connector SATA or IDE?
-What type of connection do you want to be able to use? (USB/Firewire)
I recently purchased the 2.5″ hard drive enclosure with USB pictured for only $5.98 with free shipping. You can find this one at Amazon here.
Here is a tutorial video on how to put your hard drive into an external enclosure: