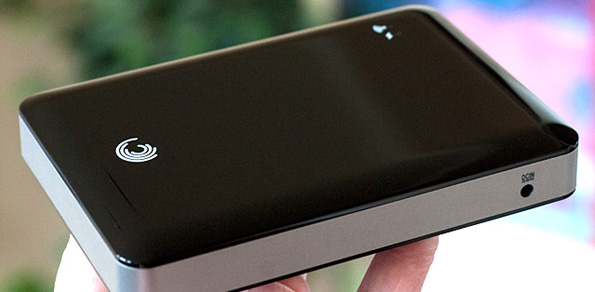 []1Product: GoFlex Satellite Mobile Wireless Storage
Price: $199.99
What It's Good For: Now you can wirelessly stream movies, listen to music and view photos with up to three Wi-Fi devices at the same time.
Who It's Good For: Travelers with an iPad, and families with kids in the car who'd like to pass the time with photos, music and movies.
Limitations: You won't have internet access once your Wi-Fi devices are communicating with this wireless hard drive. Many movie formats must be converted before they'll play on the iPad (as usual), or you must install an app that can play those files.
Bottom Line: Watch movies or access files from your iPad or iPhone — or any laptop, smartphone or tablet that can connect to a Wi-Fi network.
---
A Close-up Look At the GoFlex Satellite
---
This shiny, streamlined black box is about the size of a couple of decks of cards. Plug it into a Mac or PC via USB 3.0 (or 2.0), fill it up with music, movies and photos, and then enjoy them on any Wi-Fi device — if the files are compatible. Inside this attractive package is a rechargeable battery that powers the drive for five hours, a Wi-Fi access point and 500GB of hard drive storage space (it's a conventional hard disk, not solid-state).
Connecting a Wi-Fi device and the GoFlex satellite is the same as connecting an iPad or laptop to any Wi-Fi network. It's a simple matter of selecting GoFlex Satellite from the list of available Wi-Fi connections. Its wireless connection is supposed to reach 30 feet, but a more realistic maximum is 15-20 feet.
Once connected via Wi-Fi, you can open any browser, and the GoFlex Satellite interface appears, showing the contents of the drive. Select a movie, and within about five seconds, it begins to play. You are able to play videos with surprising smoothness from two iPads and an iPhone at the same time.
There's a downside: That Wi-Fi connection is used to communicate with the drive, so that means you can't  access the Internet at the same time. For a long car trip, that might not be an issue, but for other uses, it might become inconvenient.
Besides accessing the GoFlex Satellite from any browser — a boon for Android smartphone and tablet users — there's a free iPad app that accomplishes this as well. If all your movies are in formats the iPad can play, namely H.264, Motion JPEG or MPEG-4, you're in luck — they all displayed beautifully on both our iPads, old and new.
However, if you have movies in other formats, you'll need to either convert them before they'll play on an iPad, iPhone or iPod touch, or install a browser app such as the OPlayer HD ($5, or the free ad-supported OPlayer HD Lite) that can do the converting for you on the fly. We tried the OPlayer HD, and it played other file types such as AVI with ease. In fact, any file type your device is capable of playing can be streamed from the GoFlex Satellite — even iTunes movies.
While we found the iPad's file incompatibility an annoyance, that's not Seagate's fault. The company's built a unique product that works well. If you watch lots of movies on the road, and don't have enough disk space to give yourself a wide-enough selection, this $200 Wi-Fi drive is a unique way to solve that problem.