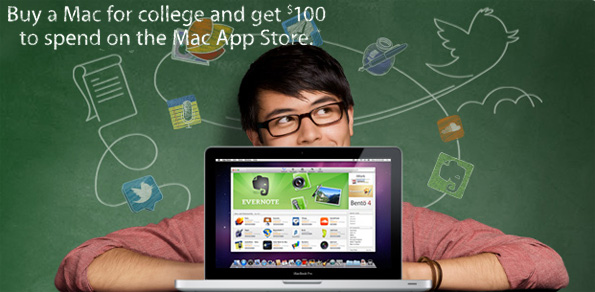 Ok, so maybe you can't spend the $100 anywhere. The reward for purchasing a new Mac is a $100 voucher (US & Canada) to use on the Mac App Store. It's Apple, what did you expect? A free iPod Touch like in the past perhaps?
Apple launched their Back To School program today stating the following:
When you buy a new qualifying Mac with Apple education pricing* from June 16, 2011, through September 20, 2011, you'll get a $100 Back to School Card to use on the Mac App Store, the App Store, the iTunes Store, and the iBookstore.
So the $100 equates to a near 10% discount on the 11″ Macbook Air at a price of $899. But the $100 voucher ends up returning to the deep pockets of Apple since it has to be spent on apps, music, or iBooks. If you think about it, not all students will spend the entire $100 voucher and each voucher probably only costs Apple around $60 after their commisions/profits.
In the UK the offer is a £65 discount while across Europe it totals €75. A far cry from previous back to school offers that included a free iPod Touch with all Mac sales.
The offer is available to students in college, students about to attend college, parents whose child is either in or will be attending college, and staff members of colleges.