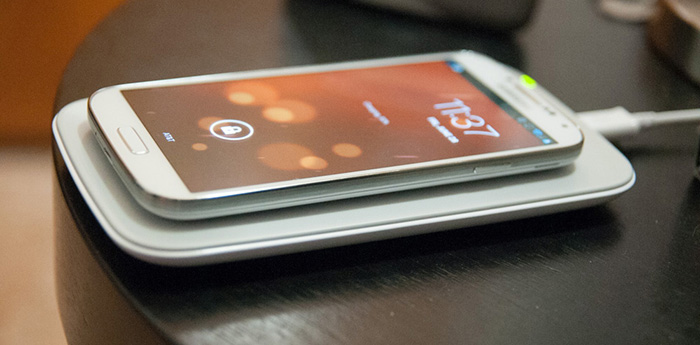 There are several wireless charging options available out there and you don't necessarily have to have specific wireless charging pads according by brand of phone. But Samsung wanted to get in on the action by making the Samsung Wireless Charging Pad for their Galaxy S4 and Galaxy Note. Granted, the charging pad works with several devices.
There a few ways to use the wireless charging pad to charge your S4 or Note. Since the Qi technology was not included on these two devices, you must also purchase a Qi adapter or battery cover. Depending on your needs and to make things easier, Samsung also has a Wireless Charging  Kit which includes both the charging pad and the QI battery cover. Keep in mind you'll need to use your current wall charger to plug into the pad. For the Note 3 you'll need a micro USB charging cable since it comes with the USB 3 cable. The wireless charging pad comes in white or black depending on your preference.
Samsung S Charger Pad Video Review
Samsung Wireless S Pad Use
To charge your device wirelessly once you have the wireless charging pad and adapter or battery cover is very simple. If you purchase the adapter, simply remove the battery cover and attache the wireless Qi adapter and reattach the cover. For the wireless capable backplate, just replace the stock battery cover. Next connect the charging pad to power outlet and lay your phone on the wireless charging pad. You should see your phone charging and the LED light on the pad will illuminate green but not too bright.
Some people may say "what's the difference in the wireless charging pad versus connecting the cable?" The answer is that you don't have to fumble for the end of the USB charging cable and the convenience of laying your Galaxy S4 or Note 3 down and it is charging. This comes in handy for beside the bed at night in the dark for sure.
If you have a Galaxy S4 or Note 3, I recommend the Samsung Wireless Charging Pad for simplicity and not having bright lights to annoy you especially at night.