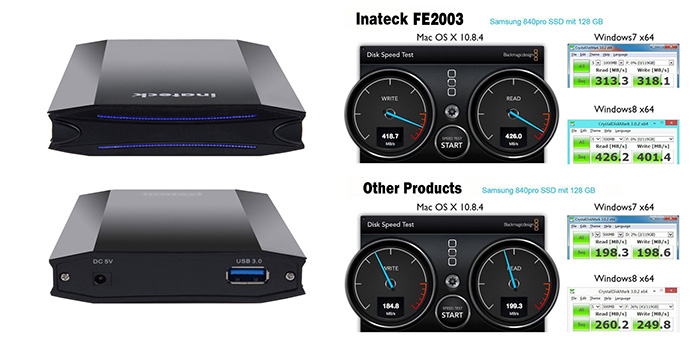 Most consumers purchase external hard drives that are already in an enclosure and ready for plug and play action. But what about those of us who already have a hard drive or solid state drive that we want to turn into an external hard drive? That's where external enclosures come in, but not all are equal.
Today we will be reviewing a HDD enclosure from Inateck that supports USB 3.0. To make the best of the enclosure we will be using a Solid State Drive (SSD) and only on the Mac as that is what we mostly use.
Inateck External Enclosure: In the box
USB 3.0 Hard drive enclosure for 2.5 inch SATA HDD
USB 3.0 cable
USB power cable
Screws and screwdriver
Inateck External HDD Enclosure Features
The Inateck 2.5 inch hard drive enclosure is made of a durable aluminum material with a side vent for heat dissipation. It supports both HDD and SSD that are SATA and 7mm-9.5mm thick. It comes with UASP technology to accelerate read and write speeds of SSD hard disks only. Mounting screws are provided to hold the hard drive in place within the enclosure. Compatible with Windows (2000, XP, Vista, 7, 8) and Mac OS 9.1 and above.
We used a Samsung 840 EVO SSD while testing the Inateck enclosure. Although there were no directions, we figured everything out pretty easily. The tray slides out of the drive enclosure  and the drive slides right into the SATA slot. There was no special drivers or anything, just plug and play. We didn't get to test on a Windows machine but instead used a Mac running 10.9.2 Mavericks. The drive was recognized instantly and a blue led light flashed within the vents.
We ran a benchmark test for read and write speeds and got 412.7 MB/s Write and 431.6 MB/s Read. Not bad at all. Overall, we were impressed with the ease of use, compatibility, quality, and performance for the price of $19.99. Right now, you can only find this product on Amazon so check it out.
Unboxing and Demo Video