iPhone DSLR Camera Mount (Professional Photography)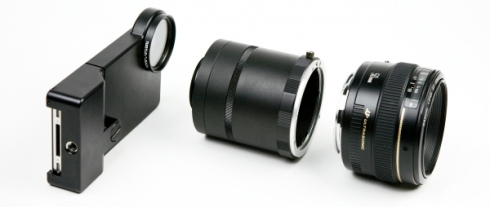 This iPhone accessory will allow you to mount your iPhone 4 or 4s to a Canon (EF-mount) or Nikon (F-mount) DSLR lens. This turns your iPhone into a professional camera easily and creates images that will blow your mind. The DSLR camera mount will allow you to take complex pictures without having to use image editing apps to get the effects you want to simulate faux filters and custom focusing.
The DSLR Camera Mount comes with three pieces, one of which is the iPhone 4 case, a UV filter and SLR lens adapter. The lenses themselves don't come with the device as you will have to get those separately based on the effects your trying to end up with. If you are a photographer this is easily one of the best iPhone accessories that you can have in your camera bag to move freely. The camera mount accessory will cost you around $230.