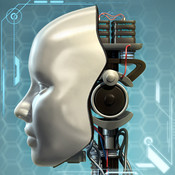 Either this app flew under the radar of Apple or they are loosening up on Siri competition. After three months of being rejected by Apple, Voice Answer has been approved and is now live in the App Store.
Voice Answer was developed by Sparkling Apps based in the Netherlands and is usable on any iPhone, iPod, or iPad running iOS 4.2 or later. Just like Siri, Voice Answer is based on data from Wolfram Alpha but lets users ask questions by speaking to the app or typing a question.
The company says they are going full speed and plan on implementing more new features to the app including location based place finding and email/SMS and more voice function commands. They even plan on creating an animated robot for the interface which you can see in the video below.
Hopefully Apple will start letting these third party developers gain traction with these virtual assistants and maybe one day offer APIs to other app developers for full integrations.
You may have trouble searching for it in the App Store, Apple is sneaky that way! Get it at the direct App Store link below.
>Download Voice Answer [iTunes App Store]