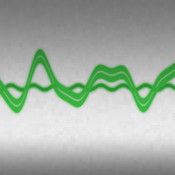 Background music for your Youtube and Vimeo videos can be hard to come by. The only way to have good music is to either make your own or deal with the crappy selections from Youtube. Now there's an iOS app to help with the hunt called Soundtrack.
Soundtrack is the first of its kind in the App Store. So long as you have an internet connection, you can preview and download music directly to the app. Right now there are over 30 tracks ranging from one to four minutes and the previews are 30 seconds. When you find a song you like, simply tap save and the audio will save to your device.
Mike Kalombo, also known as KlassicMaster on Youtube, produced all of the music in Soundtrack. He is known for awesome music he has created for various artists and well known YouTubers.
To get the songs onto your computer, plug in your devices, go to the Apps section in iTunes, scroll down to File Sharing, select Soundtrack and drag the songs to your desktop.
Soundtrack has no ads and even better, it's free!