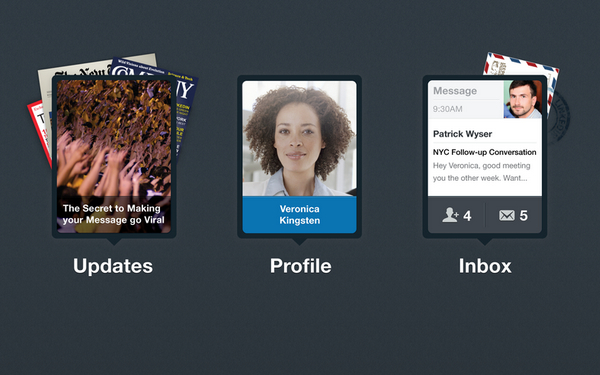 Along with its update roll out to the iPhone and Android, LinkedIn has finally launched its long awaited iPad app. The new tablet version looks nothing like the LinkedIn website, but more like a social news aggregator. It was redesigned from the ground up with LinkedIn's social media manager saying "This was a chance to go back to the drawing board".
The new LinkedIn iPad app's main screen has a simple interface which is clean and only three options: updates, profile, and inbox. Profile and inbox self explanatory, but a hidden feature from the website such as the list of people who've looked at your profile is front and center.
The updates section is kind of like a social enhanced Flipboard. Your friends' stories are shared in a beautiful layout along with news and updates to profiles. The app also pulls in your day calendar from Google or Exchange.
Everyone has been waiting a long time for this iPad app from the world's largest professional social network. What are you waiting for, go download it!