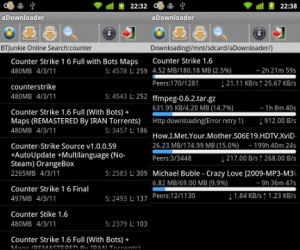 Upon trying multiple Android apps to download torrent files, I came across aDownloader. Not only is it free, but it doesn't have limitations like many of the other free torrent client apps for Android.
Features:
All of the other free torrent clients seem to limit your bandwidth, while aDownloader has no limit. That's a huge plus! You can download and search for torrents directly within the app and the default search is BTJunkie, however you can change that to any of the other 9 search engines available. You can also use aDownloader as a HTTP downloader.
This is as close as it gets to having BitTorrent on your phone or tablet. Do take into consideration that downloading files consumes a lot of data, so it's best to be connected to WiFi. Downloading files also consumes more battery life than normal with any device.
You can get aDownloader directly from the Market